General News
4 min read
Customer Experience: 5 Considerations When Assessing Volunteer Management Software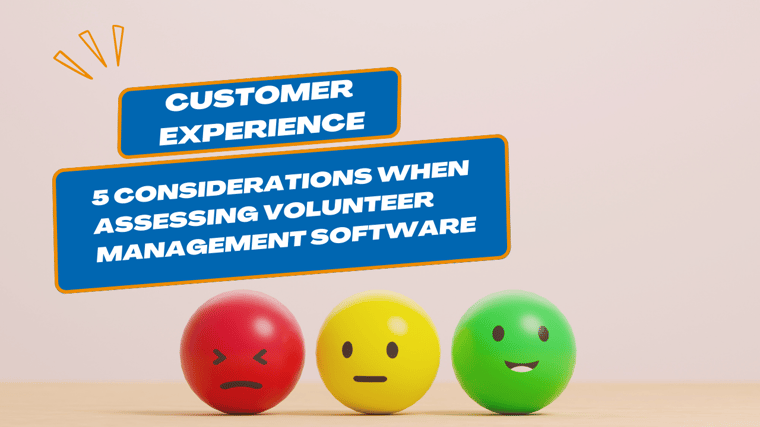 When selecting a volunteer management solution, organizations often prioritize features, functionalities, and pricing. While these factors are all important, the success of implementation and long-term utilization often hinges on customer experience (CX).
Choosing the best volunteer management software extends beyond functionalities and features; it's also about the people and processes that come with it. What constitutes as great customer experience as it pertains to implementing volunteer management software? To gain a comprehensive understanding of what your experience should look like, and what to look for when evaluating software, it's vital to consider how a software provider prioritizes your success.
In this blog post, we detail five aspects of good customer experience that you should consider when evaluating volunteer management software. These factors encompass not only the capabilities of the software itself but also the level of support and guidance you receive from the software provider. From a responsive customer support team to ongoing training and software updates, these elements play a crucial role in your success.
Use Case and Qualification
A positive experience with a volunteer management software provider starts before you become a customer. It begins with a thorough qualification process during the sales phase, aimed at determining if the software is the best fit for your organization and your specific use case. Look for a software provider who prioritizes your success and has processes in place to help you succeed.
For example, at VolunteerHub, we conduct a qualification call with every organization interested in our volunteer management software. During this call, we gather information about the organization's needs, requirements, budget, and timeline. Ultimately, our aim is to ensure that all our clients are successful and derive the maximum value from our nonprofit software.
Here is a breakdown of our sales process at VolunteerHub.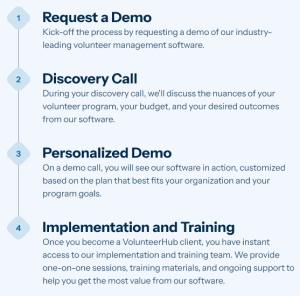 Personalized Onboarding
Onboarding is one of the most important steps in successfully adopting volunteer management software. Many nonprofit tech solutions often provide only generic asynchronous or self-guided onboarding experiences, leaving organizations struggling to adapt. Given the distinct needs of each organization, including your own, it's crucial to seek a software provider that tailors the onboarding experience to align with the specific problem you aim to address through their software. Additionally, a customized onboarding experience typically includes guided support, training, and resources designed to empower your team, thus setting the stage for long-term success with the software.
At VolunteerHub, we take pride in delivering a personalized onboarding experience to each of our clients. Our onboarding process consists of live onboarding sessions that are tailored to each organization's specific goals and needs. These interactive, live sessions help to ensure that our clients understand how to use our software and how to leverage it to drive their mission forward. Moreover, our Implementation and Training Manager is readily available to assist throughout the onboarding and training process, providing a comprehensive and hands-on approach to help our clients achieve lasting success with our industry-leading volunteer management software.
Data Migration and Integration
Some organizations encounter challenges when adopting a new volunteer management solution, including migrating their volunteer data to the new platform. Migrating data from existing systems can be daunting, even more so if the volunteer management software provider does not have a clear migration process defined. In such cases, it's essential for your organization to thoroughly evaluate potential software providers and inquire about their data migration procedures during the selection process, if migration or integration is necessary.
At VolunteerHub, we assist clients with migrating data into our platform, Initial data import is included as a part of all of our plans to help streamline the data migration process. We also integrate and have well-defined integration processes with some of the leading nonprofit software on the market including all Blackbaud CRMs, Salesforce, and Zapier (connection to thousands of applications).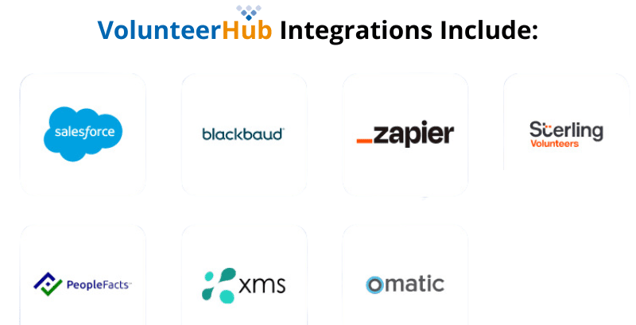 Client Success
Client success is paramount when evaluating volunteer management software because it directly influences the effectiveness and impact of an organization's volunteer program. Volunteer management software should not be just a tool; it should be a solution that addresses unique needs and objectives. A comprehensive client success process ensures that your organization is maximizing the potential of the volunteer management software. It means having a dedicated team that understands your mission and goals and tailors the software to align with those objectives. In essence, it's not just about acquiring software; it's about fostering an ongoing partnership that facilitates the achievement of the nonprofit's mission through efficient volunteer management.
At VolunteerHub, we provide each of our clients with access to a Client Success Manager who works with them to identify challenges, provides solutions, and make sure that they are getting value from our software.
Here are some client quotes about our client success process:
"I really love how the VolunteerHub team listens to customer suggestions and is consistently adding valuable features and capabilities to the software that can help organizations, like ours, take our volunteer program to the next level." Tosheena Thompson, Volunteer Manager for Students Association of MacEwan University

"The VolunteerHub team did a great job of coaching us through the set-up process and creating a solution that really works for our specific needs and goals." Heather Rompel, Manager of Family Support Services for Ronald McDonald House of the Piedmont Triad
Post-Purchase Support
Post-purchase support is crucial to success when implementing any nonprofit software product, including volunteer management software. It ensures that your organization can navigate the complexities of software with confidence. Moreover, it reinforces that the software provider is invested in your organization's success, creating a collaborative and supportive environment beyond the initial sale.
At VolunteerHub, we prioritize post-purchase support and genuinely want our clients to achieve success with our volunteer management solution. We have streamlined the process for clients to connect with our technical support specialist through our support site, its as easy as submitting a support ticket. For organizations requiring additional assistance in utilizing the product, we offer the option to schedule additional training sessions à la carte.
Here are a few quotes from our clients about our product support:
"We greatly appreciate the customer service and support that we receive from the VolunteerHub team. When we need support, we receive it quickly and efficiently." Mary Bachman, Director of Volunteer Resources for Catholic Charities of St. Paul and Minneapolis

"I love that VolunteerHub stands behind its software and provides the support, training, and functionality to get the most value possible." Trish Lackey, Event Administrator for the City of Dublin
Take a look at 80 additional quotes from VolunteerHub users.
In conclusion, when it comes to assessing volunteer management software, the importance of client success cannot be overstated. It's not merely about choosing a tool but establishing an ongoing partnership. If you are in the process of selecting a volunteer management solution, remember that it's not just about the technology; a provider that stands behind their product will make all the difference to your success.
---
Topics Discussed