General News
4 min read
Using Social Media to Engage and Recruit Volunteers
Social media is a powerful, yet affordable, way to inform, engage, and recruit volunteers. Here are 7 tips to help your organization get the most value from social media.
Did you know that 47% of nonprofit leaders say recruiting sufficient volunteers is a big problem for their organization?
If you're wondering if social media can be an effective tool to recruit volunteers, the answer is yes. In fact, according to Nonprofits Source, 53% of people who engage with a nonprofit on social media volunteer. Every person who likes, shares, or follows your nonprofit has the potential to be your next valuable volunteer. With 4.76 billion social media users nationwide, it is safe to say there is strong potential to engage, inform, and recruit volunteers within your local community. When used effectively, social media can provide an incredible opportunity to connect with supporters on the web.
So, how do you level-up your social strategy and recruit more volunteers? Here are 7 tips that can help.
Start by Creating Compelling Content
Content that is compelling to you, may not be compelling to your volunteers. You have to consider your audience, the platforms they use, and what motivates them to volunteer with an organization.
Your nonprofit has a unique opportunity to create inspiring and meaningful content on social media that resonates with your volunteers and volunteer prospects. Here are some tips for creating engaging content.
Showcase volunteer impact
People will likely connect with stories that show how volunteers are making a difference. Highlighting opportunity and need, giving examples of achievements, or even featuring individual volunteers and their stories can drive others to give their time to your cause.
Incorporate video content
Video content is continuing to grow in popularity. A recent study found that 91% of people want to see more online video content from brands. If your organization wants to recruit more volunteers, creating videos can be a great strategy.
Use hashtags
Using hashtags can help put your posts in front of more volunteer prospects. In fact, hashtags can increase engagement up to 50% and posts with at least one hashtag get 29% more interactions.
Recruit Volunteers to Help
Social media has many moving parts including strategy, content creation, community engagement, and analysis. According to Nonprofit Tech for Good, it takes between 15-30 hours per week to create and sustain a comprehensive social media strategy. When you consider that the average volunteer hour is worth $29.95, the time spent engaging volunteer prospects is worth it. Because being effective on social media is time intensive, you should consider creating a volunteer position (or a few) to support your marketing initiatives.
Utilizing volunteers to help with social media can bring new perspectives, provide support to your marketing team, and create an opportunity for volunteers to learn and create new skills. It is a win-win.
Do Research on Social Media Trends
The nonprofit community is a tight-knit group that provides a lot of insight. Do some research to find out what is working for other nonprofit organizations using social media to recruit volunteers. You do not need to reinvent the wheel. There many great resources available online that can help you access thought leadership around social media and nonprofit marketing in general.
Here are a few:
The Good to Growth podcast (The Nonprofit Hub)
Social Media Tips for Nonprofits (Hootsuite)
Repurpose Engaging Content
Content repurposing, sometimes called content recycling, is re-using existing content and presenting it in a new format to expand its reach and lifespan. Repurposing your content is a great way to create "new" engaging assets that you can share on your social media channels to reach volunteer prospects, while saving time. According to a recent survey, 94% of marketers repurpose their content, and the remaining 6% are thinking about doing so in the future. It just makes sense.
HubSpot provides some great tips and next-steps for repurposing content for social media.
Be Consistent and Post Regularly
Creating and posting consistent, on brand, content on social media is key to success. If you want to inform and recruit volunteers, share volunteer opportunities and content that highlights your volunteer program, often.
Here are a few great examples of VolunteerHub clients increasing awareness around their volunteer programs on social media.
Create a Community
One of the most powerful things about social media is the ability to use it to create community and excitement around your brand and mission. People want to be a part of, and support something bigger than themselves. In fact, the University of California San Diego lists the ability to make a difference as a top 10 reason that people volunteer. Creating an engaged community of volunteers on social media will prompt others in your community to want to join in.
Here are a couple of ways to create a community of volunteers on social media:
Welcome new followers.
Let your volunteers share their stories.
Encourage your volunteers to invite friends to like and engage with your page.
Personal shout-outs to individual volunteers and corporate groups.
Ask your community of volunteers for feedback via polls. (allow them to feel involved)
Engage with daily comments and posts.
Invite your followers to share your content.
Don't forget to also engage your donors.
Track Results
It is impossible to optimize your volunteer recruitment strategy on social media if you are not tracking the results of your campaign. Actively tracking social media performance can help you understand what is working, which platforms are delivering value, and provide insights into whether you are reaching your goal (recruiting volunteers). Before using social media as a recruitment tool, decide what your aim is.
There are many great tools available for tracking social media performance, here are a couple:
Here is a fun fact, did you know that VolunteerHub, the leading volunteer management software, can integrate with your organizations social media accounts to help recruit volunteers?
Takeaways
Social media can be a powerful tool for your nonprofit. You can use it to broadcast your mission, create a community, reach donors, and to inform and recruit volunteers. If you want to use social media as a volunteer recruitment source, remember to create compelling content, post regularly, repurpose existing content and collateral, create a sense of community, and track results.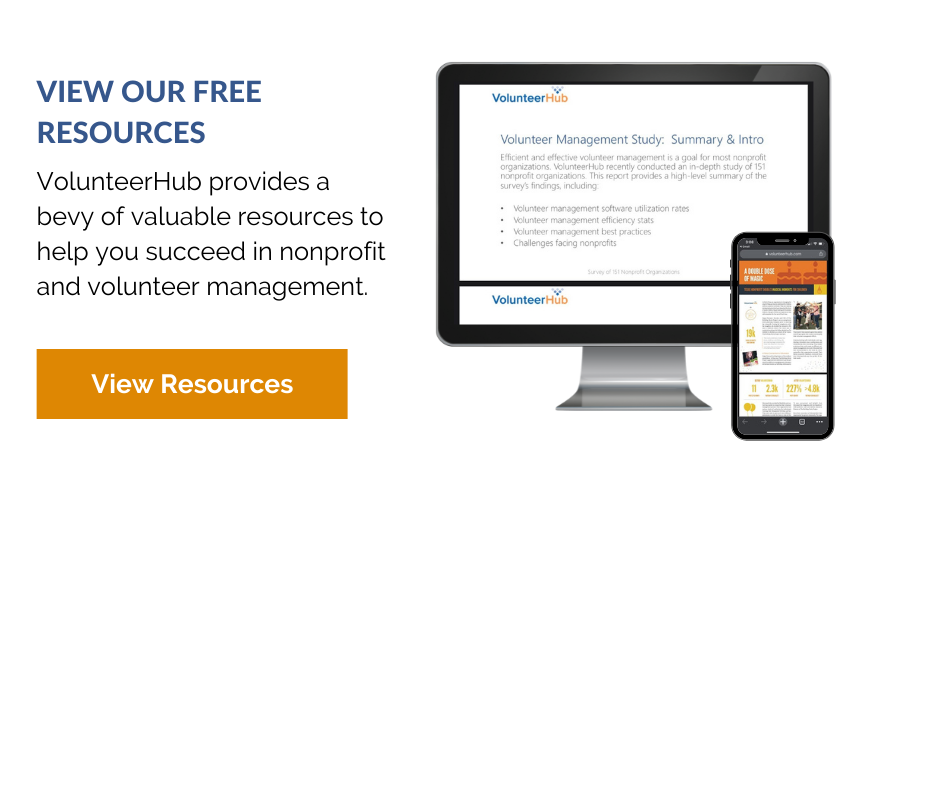 ---
Topics Discussed