Best Practices
6 min read
3 Top Tips for Improving Your Nonprofit's Digital Presence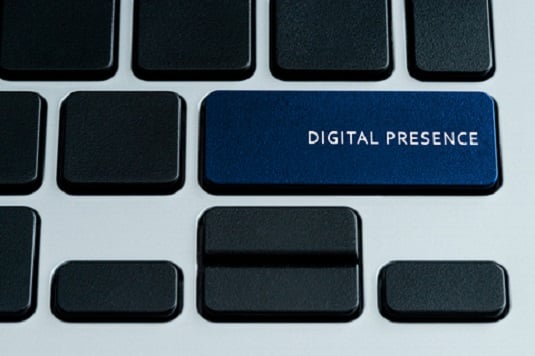 Your nonprofit's digital presence is more important now than ever in order to reach donors and raise funds. Read our guide for the top tips to improve it.
It's been a whirlwind of a year for the nonprofit sector. One thing we know for sure is that technology and digital marketing are more central than ever to nonprofits' strategies. With social distancing guidelines and economic disruptions continuing to throw new challenges our way, engaging donors, and reaching new supporters (and virtual volunteers) online is critical.
Your nonprofit's digital presence involves anything that is online, including your website, social media, emails, and more. Your supporters are already online and most likely accustomed to engaging with all sorts of organizations virtually. The challenge now is ensuring your nonprofit stands out in the competition for their limited time and attention.
It's always worth it to take a look at your current nonprofit digital strategy and determine if you're doing all that you can best engage your donors. This was true long before 2020, but it's especially relevant now. Anything from small tweaks to major strategy revamps can have dramatic impacts on your ability to reach and engage supporters in the virtual fundraising world. If you're missing out on an opportunity to generate more support, you should know about it!
In this guide, we'll walk through our recommended tips to improve your nonprofit's digital presence:
Upgrade your current nonprofit tech solutions.

Optimize your website content.

Focus on digital fundraising efforts.
Strengthening your nonprofit's digital presence will only help your fundraising efforts and continue to be a key tool far beyond any new challenges that come your way. Ready to learn? Let's begin.
1. Upgrade your current nonprofit tech solutions.
To ensure that you're doing everything you can to improve your nonprofit's digital presence, you first need a dependable tech stack. By now, you likely already have a number of preferred platforms, but it's always worth it to see if there are any additional ways you can streamline how you use them or generate more value with them.
In order to determine if your current tech stack makes the cut, give it a quick review. Do you have the following essentials covered?
Customizable online donation forms.

In order to fundraise online, you need a way to collect those gifts. Make sure you can customize and embed your donation form within your website so that supporters have easy access.

Volunteer management software. Managing volunteers after the shift to virtual engagement is reliant on effective software. Ensure you're working with a tool that has features for recruiting, scheduling, and beyond, so you can manage volunteers at every step of their engagement with your organization.
Communication and marketing tools.

Effective communication is more critical than ever amid the shift to virtual engagement. Ensure that your tool can segment your email lists, automate data from your CRM, and schedule out email blasts in advance.

Volunteer management software.
A content management system (CMS).

A dependable CMS is what will help you create an engaging and beautiful website. Make sure to find one that has the capabilities to meet the unique needs of a nonprofit organization.

Event management tools.

While your traditional events are likely on a pause right now, your nonprofit should still have effective event management tools to facilitate registration and other related processes. After all, you can still leverage these tools for virtual events!

Report and data analytic tools.

Your fundraising tools should be collecting data on each engagement your nonprofit has, from communications with supporters to each online gift made. Your

data management tools

are important to help you visualize your overall efforts and pinpoint areas of improvement and success.
Additionally, if virtual fundraising events have already been or will be a major part of your strategy, you'll need to invest some time and resources in building a virtual event toolkit. Livestreaming platforms, communication tools, intuitive donation software, and custom mobile apps that all work well together will set up your events for success.
A comprehensive fundraising platform is also beneficial if your nonprofit's team is working from home for the foreseeable future. It's important to have a centralized system for various fundraising, engagement, and stewardship efforts, which an integrated tech stack can provide.
2. Optimize your website content.
The hub of your nonprofit's digital presence is your website. After all, it's probably the first place supporters look when they want to find out more about your organization, with your social media profiles likely coming in a distant second. Effective nonprofit web design combined with valuable content can increase your donor engagement rates as well as your fundraising revenue over time.
To optimize your nonprofit's website content, you have to consider the following:
Is your content meeting the needs of your website visitors?
The people who visit your website are going to be potential donors, current donors, and curious users simply browsing the web. As soon as any of these users find your website, they should be able to find the information they want, whether it's an overview of your mission or the online donation form. Make sure that this information is also clearly intuitively displayed in your navigation menu.
Is your website accessible to all?
Web accessibility is the idea that anything on the web should be able to be used by any person, regardless of their abilities. Your website should be doing all it can to ensure that anyone can view and experience its content.
For instance, if your website has many images, make sure to also include some sort of text or audio alternative for those who might be visually impaired. In a broader sense, mobile optimization is another huge component of accessibility. If your donation page doesn't work well on smaller screens, you're almost certainly turning away donors without even realizing it.
Does your website maintain regulatory compliance?
To take the idea of web accessibility a step further, there are compliance issues to keep in mind, as well. For instance, a 2019 Ninth Circuit Court of Appeals decision stated that some organizations' websites (including nonprofits) need to be ADA compliant.
Your exact regulatory needs will depend on your unique situation, but aiming for a high level of accessibility is never a bad thing. This can definitely be a complicated topic, so we've broken it down into a guide that covers the basics, accessible design elements, and common mistakes to avoid. Check out the Team DNL nonprofit web compliance guide here.
Your website's content is an essential component of your nonprofit's digital presence, so you must ensure you're doing all that you can to make it the best it can be.
As long as you cater the content to your audience and maintain accessibility and compliance standards, you should be good to go. Just remember to actively update your website and social media with engaging new content. Users need a reason to visit!
3. Focus on digital fundraising efforts
If you've been fundraising for a while, you know that face-to-face engagement through meetings and events are some of the best ways to reach your supporters and cultivate more meaningful long-term relationships. However, due to COVID-19, these in-person fundraising and volunteer efforts are still likely on pause for the time being.
With a capable fundraising solution and an optimized website, it's now time to focus specifically on your digital or virtual fundraising efforts. A solid digital presence is essential for successful fundraising online, both because it gives you a pre-made audience of supporters but also because it makes it much easier to grow the reach of your campaigns. A highly-engaged following on social media, for instance, is invaluable for reaching wider audiences online.
What are some of the digital fundraising efforts you can conduct? There are two general approaches:
Online fundraising campaign.

Fundraisers that take place entirely online, like a peer-to-peer campaign, are some of the most flexible ways to raise money as well as spread awareness of your mission. You've almost certainly hosted online fundraising campaigns in the past, but if you haven't fully invested in developing comprehensive strategies for them (including digital marketing tactics), now is

definitely

the time as we head into the year-end season.

Virtual fundraising event

. With traditional fundraising events on a pause, virtual alternatives have proven to be successful alternatives for many organizations. You can likely take many of your popular in-person events and adapt them into new virtual experiences with the right tools and virtual event platform. For instance, you can easily convert a charity auction to a virtual auction event using mobile bidding software and live-streaming tools.
Digital fundraising efforts can keep up (and hopefully even grow) your donor engagement efforts; you just need the right resources to pull it off. Take advantage of video conferencing tools and your online networks to make sure everything goes without a hitch.
Rounding out a challenging year and heading into the year-end fundraising season, it's more important than ever that your nonprofit's digital presence pulls its weight.
By strengthening your tech stack when necessary, building a solid digital infrastructure for creating and sharing content on your site, and doubling down on virtual fundraising, you can ensure your mission stays on the minds of donors, volunteers, and other supporters. Best of luck!
AUTHOR BIO
Carl Diesing, Managing Director – Carl co-founded DNL OmniMedia in 2006 and has grown the team to accommodate clients with on-going web development projects. Together DNL OmniMedia has worked with over 100 organizations to assist them with accomplishing their online goals.
As Managing Director of DNL OmniMedia, Carl works with nonprofits and their technology to foster fundraising, create awareness, cure disease, and solve social issues. Carl lives in the Hudson Valley with his wife Sarah and their two children Charlie and Evelyn.
---
Topics Discussed