Best Practices
6 min read
Volunteer Management Best Practices - 19 Articles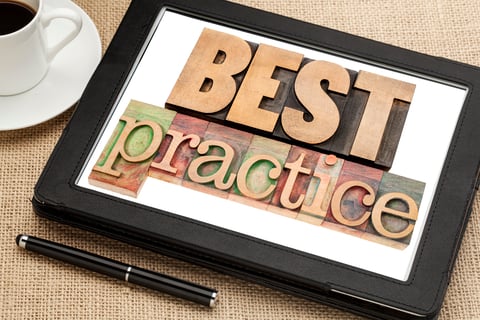 Check out these volunteer management best practices that your organization can put into practice today.
Volunteer management is a broad discipline. As any volunteer manager will tell you, connecting people with purpose can have its challenges. No-shows, last minute event changes and tech barriers are just a few of the issues facing nonprofits each day. Like any nonprofit component, there are several volunteer management best practices your organization will want to follow.
Over the past few years, our team at VolunteerHub has been busy writing content covering a wide spectrum of volunteer management best practices. Our work has been featured on some of the most prominent nonprofit blogs and websites. In this guide, you gain access to our portfolio of guest articles. Check it often, as we intend to keep this guide up-to-date as new guest posts go live.
Volunteer Management Best Practices: Engaging Volunteers through Technology
Is Your Nonprofit's Website "Converting"?
Does your nonprofit's website perform up to its potential in terms of converting viewers into volunteers and donors? In this article, featured on ManagementHelp.org, we highlight several key marketing strategies that your organization can utilize to boost conversions and improve reach. http://managementhelp.org/blogs/marketing/2011/11/nonprofit-website-converting/
Trust, But Verify: Why Volunteer Screening is So Important
Still on the fence about screening volunteers? This article, from the GuideStar blog, highlights three reasons why nonprofits should screen volunteers before sending them out into the community. http://trust.guidestar.org/2013/10/16/trust-but-verify-why-volunteer-screening-is-so-important/
Volunteers: The Missing Link in Your Organization's 360-Degree View
Technology can reap huge benefits for nonprofits – that is, if your people and systems are in synch. For advice on how to build synergies between technology and your employees or volunteers, check out this article from the Third Sector Today blog. http://thirdsectortoday.com/2013/12/02/volunteers-the-missing-link/
Why Your Nonprofit is Missing Volunteer Recruitment Opportunities
Is your website enticing to volunteers? More importantly, is it converting visitors to volunteers? It's time to put on your marketing hat and follow these tactics for increasing your volunteer conversion rate. http://trust.guidestar.org/2013/06/25/why-your-nonprofit-is-missing-volunteer-recruitment-opportunities/
Four Volunteer Predictions for 2014
Technology is making it possible for organizations to engage volunteers and donors in a whole new way. In this article, featured on the GuideStar blog, our own Corbit Harrison highlights four volunteer predictions for 2014 and how your nonprofit can benefit from them. http://trust.guidestar.org/2013/12/10/four-volunteer-predictions-for-2014/
For Better or Worse: What's Your Online Image Saying about Your Nonprofit?
First impressions matter. More often than not, a nonprofit's website is the first place a potential volunteer will go to learn more about an organization. Is your website creating a good first impression for prospective volunteers? If you've never stopped to ponder this question, it's time you do. Continue reading to learn how to give your online image a boost. http://trust.guidestar.org/2012/09/27/for-better-or-worse-whats-your-online-image-saying-about-your-nonprofit/
Volunteer Management Best Practices: Going Paperless: Transitioning Your Nonprofit to the Cloud
The Cloud: How to Avoid an IT Thunderstorm
The thought of implementing a new software can be scary. How will it impact your employees? Will the new cloud-based system integrate easily and seamlessly with your legacy systems? These are legitimate concerns and should never be taken lightly. In this article, featured on Xerox's Small Business Solutions Blog, we offer some tips that can help organizations put their worries to rest and smoothly implement a new software service. http://smallbusinesssolutions.blogs.xerox.com/2012/10/10/the-cloud-how-to-avoid-an-it-thunderstorm/
Trusting the Cloud
Has your nonprofit made the transition to the "cloud"? Whether you're still on the fence or you're currently in transition, one thing's for sure – cloud technologies can save your organization a lot of time and money. In this article, featured on the GuideStar Trust blog, we discuss a few common concerns that people have when migrating systems to the cloud. http://trust.guidestar.org/2012/04/05/trusting-the-cloud/
Why Inefficiencies Might Be Damaging Your Volunteer Relationships… And What to Do About It
Your volunteers have "gone mobile," so isn't it time you do the same? If your nonprofit isn't leveraging technology to improve efficiency and connect with constituents, you could be missing out on a major opportunity. This article, from the GuideStar Blog, explains the importance of mobile technology and how it can help nonprofits build trust and rapport with volunteers. http://trust.guidestar.org/2013/08/16/why-inefficiencies-might-be-damaging-your-volunteer-relationships/
Nonprofits Find a Balance Between Digital and Traditional Technology
Is print still an effective marketing tool for nonprofits? Most definitely, yes. However there's no denying that we live in an increasingly more "digital" world. In the article, we take a look at how nonprofits are leveraging digital and traditional technology in the 21st Century. http://enterprisematters.blogs.xerox.com/2012/05/03/nonprofits-find-a-balance-between-digital-and-traditional-technology/
Making the Leap to Digital for Nonprofits
Ready to go paperless? Nonprofits around the world are starting to realize the benefits of digitizing documents. Before you take the leap to digital, there are a few important things to consider. This article, featured on Xerox's Small Business Solutions blog, offers a four-step plan to roll out your cloud-based system and highlights a few tips to make your transition as smooth as possible. http://smallbusinesssolutions.blogs.xerox.com/2012/05/29/making-the-leap-to-digital-for-nonprofits/
5 Steps For Identifying a Trustworthy Tech Vendor
When an organization makes the decision to implement new software, it impacts everyone – from the frontline employees to the CEO. Without proper guidance, the process of selecting the right software package can get very time consuming and frustrating. Having a trustworthy technology vendor that can walk you through the process and help evaluate your organization's needs can be truly priceless. But how do you know if you can really trust them? After all, aren't they just trying to sell you something? In our recent guest article on the GuideStar blog, we answer this important question and provide five steps for identifying and selecting a trustworthy technology vendor.
http://trust.guidestar.org/2014/08/14/5-steps-for-identifying-a-trustworthy-tech-vendor/
Volunteer Management Best Practices: Leveraging Corporate Partnerships
3 Steps for Building Trust with Corporate Sponsors
Want to attract more corporate sponsors and donors to your cause? Check out this article on the GuideStar blog for three trust-building steps that can help you do just that. http://trust.guidestar.org/2013/03/14/3-steps-for-building-trust-with-corporate-sponsors/
Viral Volunteerism: 171 Billion Reasons to Give Back
Is it possible to put a dollar figure on the value of volunteers? While some studies have tried (reporting the average volunteer hour is worth over $22), there's no denying one fact: volunteers can be the most valuable asset a nonprofit has. Many nonprofits are realizing the benefits of corporate volunteer programs. Corporate volunteers present a unique opportunity for nonprofits, offering expertise in areas such as marketing, accounting, technology, and other professional services. Continue reading this article, from the GuideStar blog, for tips on how to connect your nonprofit with corporate sponsors.
http://trust.guidestar.org/2013/05/07/viral-volunteerism-171-billion-reasons-to-give-back/
Volunteer Management Best Practices: Issues in Volunteer Management
How to Measure the Success of Your Volunteer Program
Key performance indicators (KPIs) can tell an organization a lot about the performance of its various volunteer programs. But how do you know if you're tracking the right metrics? Here are some basics to keep in mind when considering your KPI mix. http://blogs.volunteermatch.org/engagingvolunteers/2012/05/02/how-to-measure-the-success-of-your-volunteer-program/
How to Deal with Last Minute Volunteer Cancellations
When a volunteer cancels at the last minute, it can send your event into a tailspin. That's why it's always important to have a backup plan in place. This article, from the Energize, Inc. blog, provides a helpful framework nonprofits can follow when dealing with last minute volunteer "call offs." http://blog.energizeinc.com/
How-to: Leverage Volunteer Data
The more data your nonprofit is able to collect from volunteers, the better off your program will be. Capturing demographic information such as age, address, occupation, and professional affiliations can be helpful when determining what role a volunteer will play within your organization. Once this information has been collected, the next step can often be the most challenging: synthesizing and putting the data to use. Read this article, featured on the NTEN blog, for an in-depth look at how nonprofits can obtain, synthesize, and use volunteer data to create more effective volunteer recruitment campaigns. http://www.nten.org/articles/2012/how-to-leverage-volunteer-data
Trust Building Tips to Reduce Volunteer Turnover
Managing the trust relationship between volunteers and the nonprofit is a two-way street. In order to build a lasting relationship, both nonprofits and volunteers must play active roles in the trust-building process. What can you do for volunteers to build that trust? What should you ask of your volunteers? For answers to these questions and more, refer to this article featured on the GuideStar blog. http://trust.guidestar.org/2012/01/13/managing-the-trust-relationship-between-volunteers-and-the-nonprofit/
How to Convert More "Super Supporters"
Some nonprofits are lucky enough to have supporters who contribute significantly to both their fundraising and volunteerism programs. These "super supporters" are an invaluable asset. While every organization wants more of them, few fully understand how to cultivate this distinctive group of people. Here are some suggestions for converting more regular supporters into super supporters. http://trust.guidestar.org/2014/01/31/how-to-convert-more-super-supporters/
How to Build Trust with New Volunteers
How can technology help your nonprofit make a better first impression and build trust with new volunteers? Read this article to find out. http://trust.guidestar.org/2014/04/24/how-to-build-trust-with-new-volunteers/
Are you in charge of a nonprofit blog and need content discussing volunteer management best practices? If so, we're always happy to help. Tweet us @VolunteerHub, and we'll tweet back with a few possible topics.
---
Topics Discussed