General News
5 min read
Volunteer Management: Master it in 2023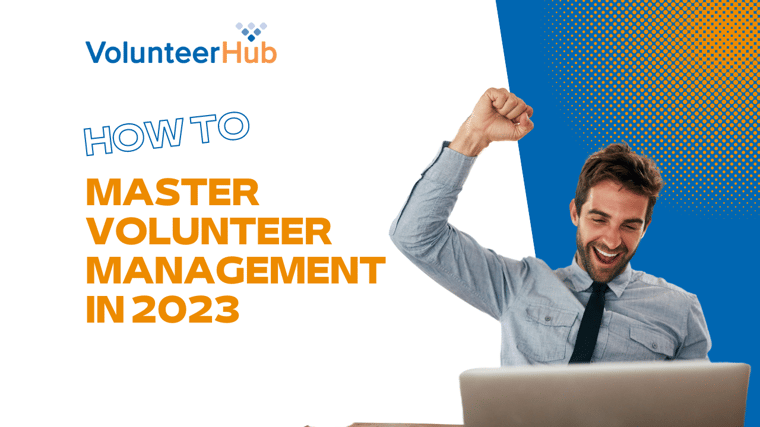 Leveraging technology to manage volunteers in 2023 is essential. In this post, learn more about effective volunteer management and the value of volunteer management software.
So, you've been tasked with running a volunteer program. Running a successful volunteer program means managing a lot of moving parts. If you want to make a significant impact, volunteer engagement and management strategy should be at the top of your list, especially if volunteers play a vital role in helping your organization achieve its mission.
Investing in volunteer management software can help you better manage and communicate with program stakeholders, whether its current volunteers within your volunteer database, volunteer prospects you are hoping to convert, or members of your organizations board. In this blog post, we will talk about what volunteer management is, why it is worth the investment, and what to look for in software.
Your Responsibilities Running a Volunteer Program
Your goals, responsibilities, and schedule largely depend on your volunteer program, but, chances are you wear many hats. From our experience, your responsibilities could include:
Promoting your program and volunteer opportunities.
Recruiting and training volunteers.
Running reports and compiling volunteer data.
Engaging individual and corporate volunteer groups.
Communicating with volunteers.
Keeping track of volunteer hours.
Coordinating events.
Matching volunteers with opportunities.
Volunteer fundraising.
Coordinating volunteer reward and recognition events.
What is Volunteer Management Software?
Volunteer management software is a computer program designed to help you manage your volunteer workforce, allowing you to recruit, engage, manage, and communicate with volunteers, quickly. Most volunteer management software consists of a suite of features that help organize, track, and automate various tasks associated with managing volunteers.
The features included in volunteer management software vary depending on the vendor, but, some of the most common features include:
Volunteer scheduling
Volunteer registration
Volunteer tracking and reporting
Volunteer communications
Volunteer event management
Fundraising
Keep in mind, some volunteer management software provides more features than other volunteer management solutions. For example, VolunteerHub offers several exclusive features such as True integration with Blackbaud's suite of CRM solutions, Salesforce integration, Virtual Kiosk, and additional automation via Zapier.
Watch a short video to see how VolunteerHub works.
The Top 6 Reasons You Need Volunteer Management Software
There are many reasons why your organization should invest in volunteer management software. The right technology can streamline your operations and quickly provide a return-on-investment. Below are 6 of the top reasons why volunteer management software may make sense for your volunteer program.
You want to automate volunteer engagement.
When your program data is spread across multiple systems, effectively engaging volunteers can be time-consuming, complex, and inefficient. The right volunteer management software can streamline the process of communicating with, and engaging volunteers by keeping all volunteer data in one centralized place.
With VolunteerHub, you can easily filter your volunteer data to leverage skills, availability, location, interests, history, and more to create targeted and personalized email and text communications. VolunteerHub makes it easy to remind volunteers of upcoming shifts they have registered for, and thank them after their volunteer opportunity is complete.
You want to save time.
One of the biggest benefits of volunteer management software is its ability to save your organization time and money by streamlining processes and increasing efficiency. By automating the process of recruiting, scheduling, and managing volunteers; you can streamline operations and maximize your programs impact. Many organizations using VolunteerHub have saved hundreds of hours per year managing volunteers, that they were able to then invest into other parts of their program.
Learn how the Ronald McDonald House of Salem-Winston saved hundreds of hours per year by implementing VolunteerHub.
You want to reduce data errors within your volunteer database.
With manual data-entry comes the possibility (guarantee) of errors. According to recent research, the average error rate in manual data entry is about 1%, which can add up to a lot when you are managing tens of thousands of records, if not more. A manual process for entering volunteer data becomes even more prone to errors when the person entering the information is tired or in a hurry. You can remove this inefficiency and reduce data-entry errors by investing in volunteer management software.
Here is an added bonus, VolunteerHub software can identify duplicate volunteer records and help you deduplicate those records to maintain a cleaner database, which becomes increasingly valuable when importing data from one platform to another.
You want to convert volunteers to donors.
Did you know there is a fine line between volunteers and donors? According to a Fidelity Charitable "Time and Money" report, 87% of volunteers say there is an overlap between their volunteer and financial support. The same study also found that those who volunteer their time and skills to nonprofit organizations donate an average of 10 times more money to charity than people who don't volunteer. If you want convert more volunteers to financial donors, volunteer management software is a must-have.
Prioritize volunteer fundraising with VolunteerHub by:
Integrating with your donor management system: VolunteerHub can help your organization get a "full picture" by connecting the dots between donor and volunteer constituents. We offer True CRM integration to seamlessly make a connection. VolunteerHub integrates natively with many of the leading CRM solutions on the market, including all Blackbaud CRMs, and Salesforce.
Sending targeted communications: Making the right ask, at the right time, on the right platform, is important when it comes to volunteer fundraising. VolunteerHub can help you send targeted email, text messages, and social media posts promoting opportunities for volunteers to donate to your cause.
Creating donation pages: With VolunteerHub, you can create an unlimited number of custom donation pages, each with a different ask message, thank you message and donation amounts. You can link directly to a donation page or have it automatically appear to volunteers immediately after signing up to volunteer at specific events.
Don't forget to also convert donors to volunteers. We created a template to help you make that ask. You can download our volunteer request to send donors here.
You want a deeper understanding of your volunteer program.
Believe it or not, only 55% of nonprofits are actively measuring volunteer impact. If you are not measuring impact, how are you growing your volunteer program? Investing in the right volunteer management software will give you strategic insights into your volunteer program. VolunteerHub is preloaded with standard reporting options, allowing you to instantly review volunteer attendance, activity and trends.
You want to provide a better user experience for volunteers.
User experience is important to your volunteers. Your volunteers want to be able to learn more about volunteers opportunities, self-register, and share with friends. With VolunteerHub, volunteers can self-register to fulfill opportunities from anywhere with an internet connection, from an event landing page that aligns with your nonprofits brand. Are you trying to engage corporate partners? You can also use VolunteerHub to create branded landing pages for your corporate partners and volunteer groups.
What to Look for in Volunteer Management Software
The volunteer management software that you choose should help your organization manage recruitment, registration, communication, and screening of volunteers from one easy-to-use platform. When evaluating volunteer management software, also consider the implementation process, training, and support that the vendor provides. Do they stand behind their software? Ultimately, the volunteer management software you invest in should align with the goals and objects of your volunteer program and how you want to use technology. Here are a few things to consider when vetting solutions.
What are your objectives?
What are the needs of your volunteers?
What works best for your internal workflows and daily operations?
What are your must-haves vs. optional features?
What is your timeline?
How many volunteers are in your database?
What is your budget?
Selecting the best volunteer management solution for your needs is a big decision. When determining the best fit, make sure that you take the time to view case studies and talk to other organizations about their experience using a specific volunteer management platform.
Volunteer Management Resources
At VolunteerHub, providing nonprofits with information about volunteer management best practices is a priority. We have a bevy of free resources to help your organization better recruit, engage, and manage volunteers. Below are a couple of resources we believe will help you optimize your volunteer management strategy in 2023. Make sure that you also visit or blog and resource page for more tips and tricks for managing volunteers.
7 Tips for Reviewing Your Volunteer Program
Your volunteers are some of your organization's most valuable resources. Are you getting the most value from each hour donated to your cause? Our whitepaper offers helpful tips for streamlining volunteer programs and keeping your existing volunteers engaged.
What to Look for in Volunteer Management Software
Approximately half of all nonprofits in the United States have yet to adopt a volunteer management software application. Download this free guide to learn what your organization should look for in a system.
Volunteer Management Software – 151 Nonprofits
30% of nonprofits still use spreadsheets to manage volunteers and events. Download this study of 151 nonprofit organizations to learn best practices for managing volunteers, events, and selecting technology.
VolunteerHub Can Help You Better Manage Volunteers
To learn more about how VolunteerHub can help your organization better manage and engage volunteers, request a demo. During the demo, we will walk you through the functionality of VolunteerHub and evaluate your existing volunteer program/process for opportunity to leverage technology and automation.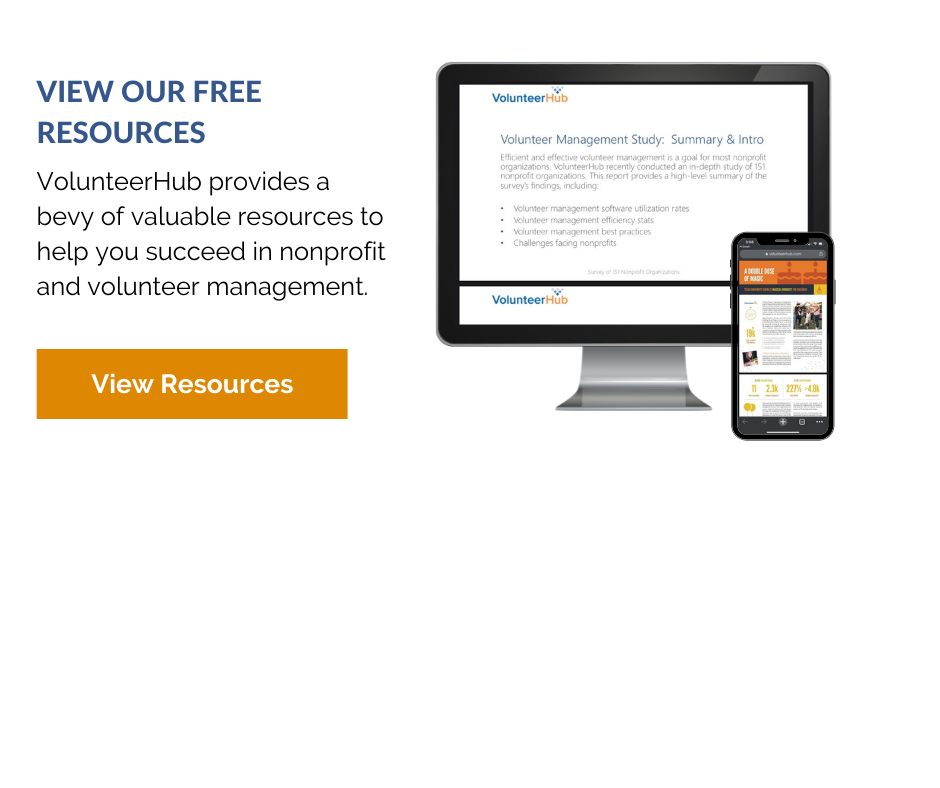 ---
Topics Discussed